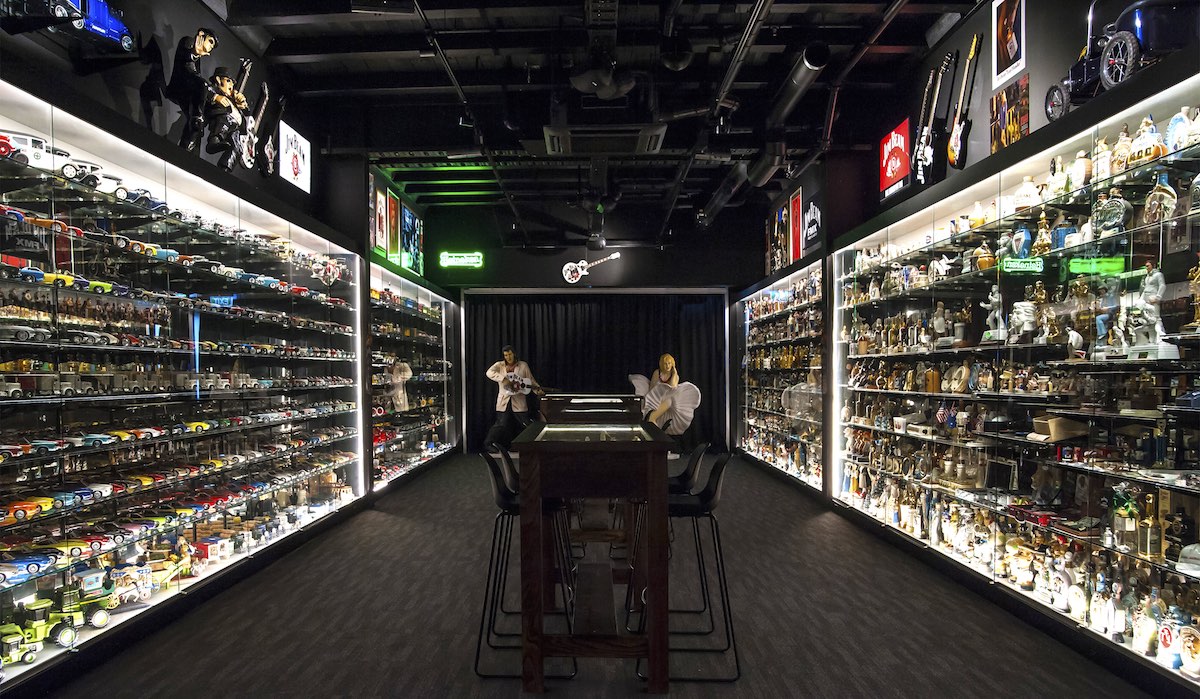 ---
Five years of waiting after the huge earthquakes that shook Christchurch, New Zealand,  the new "Beam Gallery" is up and running. The official opening took place on 30 May 2016. All viewings of "The Beam Gallery" are strictly by appointment (when available) at this stage.
This huge Jim Beam, Regal China, Ski Country, McCormick's etc collection was originally started in the late 1970's, by John Van Schaijik, when, at the local liquor store, he purchased the new Jim Beam VW's. Since then it has been taken over by Frank Van Schaijik and has grown many times over, by combining the collections of International Jim Beam Club members, Dave Ellis, Bill Terry, Bruce Andrews and Greg McCurley. Originally the collection was housed in the Meeting room of John Jones Steel in Christchurch. It soon became apparent that this was fast running out of space so, a new place was found in Addington. This too was found to be too small and after the earthquakes, the whole collection was packed away in a container until the town had settled down.
With great foresight and vision Frank obtained some land in the Central City that had recently had a building demolished and a new building was designed with the collection in mind.
After five years it started to come together – 35 metres of cabinets, 2 metres high, fully backed with mirrors and LED light strips top and bottom. Thick adjustable glass shelving, sealed off with locked glass sliding doors. Once the building was finished, the collection took almost a month to set up. This was helped with the skills and enthusiasm of Dave's partner Diane and "The  Showcaser" Craig Weaver, an extraordinary effort, fully endorsed by comments made on the opening night by all individuals who attended, including family and close friends.
Above the cabinets containing the collection, is the full advertising set of NZ Jim Beam real guitars and advertising memorabilia. One cabinet contains the Van Schaijik family Delft Blue dinner set and many other Dutch items.
Some of the items included in the collection are the following ;
Jim Beam collection of 32 International 2011-2015 western series

Collection of ten different Duesenbergs ( 4 one off colours)

The four complete Train sets with mock ups and extras including the outstanding Turner Gold/Pink loco

Complete Duck/Animal series plus mock ups

Complete Opera series with extras and mock ups

Back Bar series including Gold Cowboy

Lift up top glass bar leaners, house a scale model of the  Clermont Kentucky Jim Beam plant and almost a full set Of the Dugs Nevada "Ladies'

Other decanters include, Harley Davidson Set Plus many Sample Mock ups

Ski Country Western/Indian series Famous Americans.

McCormack's  Elvis and other Famous people series.
This is just a sample of what is on display, and to top it off, you are greeted by life size replicas of Elvis and Marilyn Monroe at the door.
But Wait!! There's More!! Out the back of the Beam Gallery is another room the same size as the Gallery. Here one will find the walls all full of framed Sports memorabilia, Signed Rugby jerseys/Cricket bats /Golf club/Olympic Formula Race cars etc.
So, at last, a final resting place for this comprehensive plus collection!
---
Image Gallery
---
Click on a thumbnail below to enlarge
---
Frank Van Schaijik
CEO (Chief Entertainment Officer)
74 Victoria Street – Christchurch – New Zealand